Acoustic roots duo MAMBO JAMBO
Latest releases – our fourth & fifth albums, 'Groove Fruit' – plus, for children & fun-loving adults, 'Happy Feet!'. Mainly our own songs and compositions, including some live versions, plus traditional songs & covers popular with gig audiences. We're proud of our CDs – all are available at our shows or by mail order (£10 each incl. p&p – see PayPal links below where you can also pay by card). Or contact us if you'd prefer cheque or another payment method.
***********************************
'GROOVE FRUIT' // 2021// £10

1. Cumbia In The Moonlight
2. Don't Throw Your Love Away
3. Ruwenzori Rock
4. Deep River Blues
5. Lil Liza Jane
6. So Far
7. Surrender
8. The Four Winds
9. Shake Your Body
10. The Test Of Time
11. When You Sing
12. Moonbathing
13. I Believe In Music
14. Sweet Georgia Brown
15. Valse Tendre
16. Chime For Change
17. Ride The Wind
*************************************

£10. Click here to email us if you want to pay by cheque, or on the PayPal button on the left if you want to pay by PayPal or debit/credit card
'HAPPY FEET!'  CD for Children & Fun-loving Adults! // 2021// £10

1. The Duck Dance
2. Happy Feet!
3. Yap Badoodle
4. Ally Ally O
5. Sweet Georgia Brown
6. Boil Them Cabbage Down
7. Shake Your Body
8. Oh Susanna
9. Mexican Hat Dance
10. A Taverna Tune
11. Lil Liza Jane
12. I believe In Music
************************************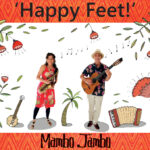 £10. Click here to email us if you want to pay by cheque, or on the PayPal button on the left if you want to pay by PayPal or debit/credit card
STICKLEBACK GUMBO // 2014// £10

1. Somebody Like You (listen above)
2. Wakko Cavaco
3. The River
4. Frolics (listen above)
5. Stickleback Gumbo
6. Sonho em Samba [Samba Dream]
7. Bulvar Bulgar (listen above
8. Salty Dog (listen above)
9. Chan Chan (listen above)
10.Kingston Jive
11. Love Lead Us On
You can read a review of 'Stickleback Gumbo' by 'Blues In Britain Magazine ' here 
************************************
Click here to email us if you want to pay by cheque, or on the PayPal button on the left if to pay by PayPal or debit/credit card
RUM 'n' RHYTHM
1. Samba Nova (listen above)
2. Moving On
3. If She Needs Someone
4. High Life
5. Tomorrow's Too Late
6. Mas Que Nada (listen above)
7. Guantanamera
8. Bean's Bounce
9. Only Yesterday
10. Dizzy Waltz
11. Nightbirds
*************************************
Click here to email us if you want to pay by cheque, or on the PayPal button on the left to pay by PayPal or debit/credit card
MANGO JAM
1. Melodita
2. If She Needs Someone
3. Mango Jam
4. La Cosa Que Me Gusta
5. The Winter Days
6. Rhumba Number
7. Yap Badoodle (listen above)
8. Djembe Rave
9. Corrida
10. Three Little Frogs
11. East St. Louis Toodle-oo
12. Back to Back (listen above)
Click here to email us if you want to pay by cheque, or on the PayPal button on the left to pay by PayPal or debit/credit card