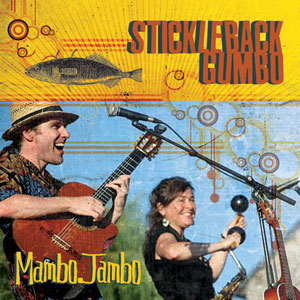 Mambo Jambo's Stickleback Gumbo CD Review from Blues In Britain Magazine by Pete Clack.
('Stickleback Gumbo') though around a little while now, gets a fresh release, and its one of those great releases that has so much throughout to enjoy over and over again. This acoustic roots duo, Pete & Frankie play a whole range of instruments, giving for just two folk a huge variety in their music. My first hearing was a recently reported lockdown live set, and now hearing this album, they truly are worth catching. At times they sound more like a band than just the pair of them.
Pete plays acoustic and electric guitars, a tres (Cuban guitar), banjo,accordian, cavaquinho, bass, drums and percussion, plus he adds the vocals. Frankie brings her talents on both alto and tenor sax, clarinet, flute, vocals, guitar, percussion, tamborine and even a dash on the spoons. They refer to their music as a journey, so the album has a mix of the old and new, some live favourites, with a broad range of sounds. Not difficult with the rangeof instruments they play. So you're going on a journey of sounds from various parts of the world, but with a nice feel of the blues in its various guises.
From the blues of the title track 'Stickleback Gumbo', all about fishing and that tasty meal at the end of the day, but where we don't get the crayfish or southern foods so much, so in come the sticklebacks instead. Some tasty guitar from Pete makes this a nice Mardi Gras type gumbo, to lift any day. Also Mississippi John Hurt's 'Salty Dog', played here much more in a ragtime beat, and even including soome banjo picking , or as they call it a joyous romp of a tune. There's what's called the tougher sounds of the townships in 'Kingston Jive',In fact its a song they played when Nelson Mandella was given freedom of the city. There's even one of the songs Ry Cooder did on his Cuban trips with the full band there, here just guitar and voices, and it really shows what fine and creative musicians they are.
Even soul makes an appearance with 'Love Lead Us On', and a very different track to the rest of the album. No vocals just the two of them and in a rich soulful mood. The opening 'Somebody Like You' introduces us to them in a song they've played many times live and have finally put onto disc. The song has a really interesting rhythm; it works a treat, and is the perfect opener.
Blues comes in many styles from many countries, and the way Rete & Frankie introduce them to us on this excellent choice of styles and music, with such a great range of instruments, makes for a pure listening delight, so whether American, African, Cuban, a touch of New Orleans, join them as they go Stickleback Jamboing on an album well worth checking out. There's for sure something to please everyone here.
Pete Clack
Click here for our Recordings Page to listen to and buy 'Stickleback Gumbo'
MAMBO JAMBO Cotswold Distillery Sessions Online; Review from Blues in Britain magazine, by Pete Clack

This was the latest gig sponsored by the Cotswold Distillery folk who (with promoter Tim Porter) have provided gigs (online)… on a regular basis.
Tonight was the turn of the mightily impressive Mambo Jambo, Pete and Frankie, who proved over the hour why they are booked every year by festival promoters: a mix of blues, traditional music (and even trips to Cuba and Brazil!) filled their set, played on a huge range of instruments.
Frankie played not only guitar, but saxophone, clarinet, flute, and plenty of percussion too, including cowbells. Pete played a variety of guitars, plus banjo; Tres, (a traditional Cuban guitar – mind you, his was made in the UK), a little accordion, and even stomped out rhythms on his suitcase.
With that musical and instrumental range they kept things interesting throughout, opening with a neat blues in 'Deep River Blues', with Pete picking some true Delta guitar: a nice touch was Frankie's clarinet, which gave the song that little extra. By the next song Frankie picked up her sax for the first time, for 'Stickleback Gumbo', a song very much based around fish stews and fish fries around the Mississippi region. Their music brings what is needed most of all in these times; it's good time music, that even at home you can dance to or join in with. When they came to 'Sodade' an old Portuguese song, they brought those blues you get around the Caribbean region, Pete taking to playing an instrument that looks like a ukulele (but isn't, it's from that area). A little blues tune from Brazil, which in English means 'That's Really Cool That ls', featured sax and guitar again: it was a real "shake your hips" type of song, upbeat and with a tasty sax solo in the middle… just perfect on a cold and wet evening in autumnal Britain.
The old Mississippi john Hurt classic 'Salty Dog' was next, a track from their latest album: here the mix between Pete's banjo and Frankie's guitar had that feel of sitting on the porch at night and just having a good time. Even more variety came in a couple of songs from New Orleans including a simply quite amazing version of Dr. john's 'lko lko', this time on accordion and sax to give a Zydeco flavour, from right down there in the swamps. Then a song about the many days on the road where you'd like to be home, twelve-string guitar and flute sounding a little like Otha Turner's family blues. They even brought in a tune written for the Buena Vista Social Club in Cuba, during their sessions with Ry Cooder, where the guitar was a ten-string version, and sounded so good.
Winding things up Mambo lambo headed down to the Tex-Mex area for a blues-based polka, very much in the dance / shuffle mould, another one where you could join in at home.
Very soon though, time was up: everyone would have liked more from this duo (who at times sounded more like a full band than just the pair of them). Well worth catching, one thing you will get without question is a night of great uplifting, and superbly played music. This was one of those memorable gigs for a Thursday night online
Pete Clack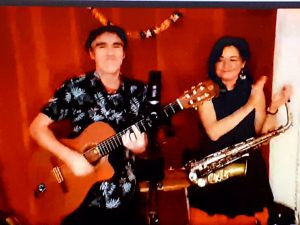 (Our thanks to Pete Clack, Cotswold Distillery and Tim Porter)
Here's a link to Cotswold Distillery Facebook Page for the live show (29/10/20)
and here for Blues In Britain Magazine