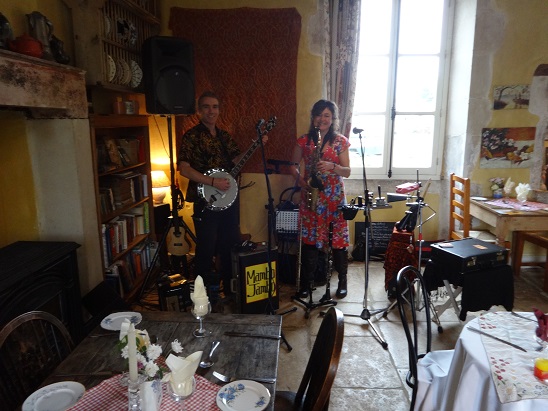 We've recently got back from France where we were involved in an Educational project in a secondary school, had a great gig, did a bit of exploring, seeing friends and generally had a bit of a road trip!
The drive from Calais, through Paris, and down to the Ardeche was very scenic; especially when we got to the Ardeche; It's always breathtaking to find yourself in this countryside with gorges and rivers and mountains. Our day in the College in the Rhone Valley went well ! The idea was to spend the day working with the students who are learning English, encouraging them through dialogue with us, plus there was the musical element with our 'Participatory Musical Performance' – we went into depth about all the instruments and styles we cover. The students were receptive and enthusiastic; they'd even made some 'Mambo Jambo' posters, and learnt two of our songs to sing along with us, 'Moving On' and 'Yap Badoodle'. They'd also prepared interviews for us, all in English, to practice their skills! And apparently now they're in the process of getting a podcast together about our visit to their school.
Our next gig was at The Madhatter's Kitchen in Poitou-Charente, which was a great venue! (Plus restaurant and B&B). Greeted by chickens, in a lovely rural setting, we were given a fantastic welcome; the place had a great atmosphere with it's décor and rustic feel, and was all ready for people to turn up, eat some great food and get into our gig! The night was sold out (actually, it was more like a Very Full House! ) and it was a lot of fun! Rather than sleeping in our van in the courtyard, where we were warned the cockerels would probably wake us at about 5.30 am (no thanks!), we chose a spot in the local forest, where the only noise we heard as we went to sleep was a nightingale!