As well as touring from Devon to Scotland this year, we're also involved in projects for Hull City Of Culture; The PRS New Music Festival on 1st-2nd July; we're also involved in an ongoing Composer Residency project with community, musicians and composers; Plus the Big Malarkey Festival , The Dutch WORM Festival and Assemble Fest Theatre Festival (A collaboration between us and Hull Carnival Arts & Bandanarama with creative input from Petra Massey of Spymonkey). We are getting very creative!
Assemble Fest
We've had a lot of fun getting "The Chase" together! The Chase is "An adrenaline filled adventure that follows the story of two hapless thieves, a heist, an unlikely set of heroes and heroines, and a community pulling together in the face of adversity.
Comic action and an eclectic mix of musical mayhem that bursts onto the streets, and into the audience." We've been collaborating with Bandanarama, a 14 piece carnival band, in the making of the show, so when we do burst onto the street, it's pretty spectacular! And Assemble Fest is a very unique festival: "Performance Where You Least Expect It"! www.assemblefest.co.uk
The Big Malarkey
Mambo Jambo at The Big Malarkey by Chris Pepper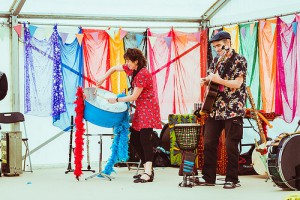 The Big Malarkey is a children's literature festival taking place in Hull "A fun-filled time trying all sorts of activities – watching, making, listening, writing, singing and maybe discovering stuff you didn't know about the wonderful world of children's literature; we'll be exploring the world of 'Handa's Surprise' through music, storytelling, rhymes and interesting instruments! Come and join us in The Little Larkeys marquee on Mon 26th June, East Park, Hull.
PRSF NMB Festival – Festival of New Music
We've been involved in a Composer Residency as part of the PRSF New Music Biennial that's taking part in Hull as part of the City of Culture events. So we've been working in a local primary school and with the 'Open Doors' project alongside Errollyn Wallen and other supporting artists (Em Whitfield Brookes and Gary Hammond). We'll be playing in Hull City Hall as part of a "Composer Residency Supergroup" featuring some of the other resident composers; Eliza Carthy, Sam Lee, Jason Singh and Brian Irvine plus James Redwood. So far it's been a really interesting and involving project that we're really pleased to be part of, and everybody seems to be getting a lot out of it!