Mambo Jambo's Nonsense Show: Songs & Participatory Nonsense for Children and Families! Ideal for children aged 3-7.
Come and join multi-instrumentalists Frankie & Pete, with their array of instruments and nonsense props, songs and raps. Together sharing in song and silliness, exploring the Octopus' Garden, and making a Nonsense Stew!


'Thanks for giving our audiences a real treat! …Wonderful performance.' Justine Sowden, Ilkley Playhouse Director
'Mambo Jambo are a total delight!..An infectious sense of fun. Perfect for all ages! Ellen Bianchini, Director Big Malarkey Children's Literature Festival

'The Nonsense Show is just that – undiluted fun, well crafted and performed by talented musicians. A joyous experience!' Keyna Paul, Hull Dance Director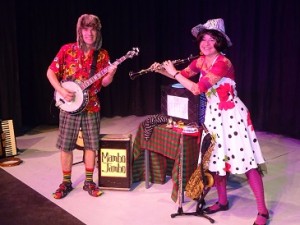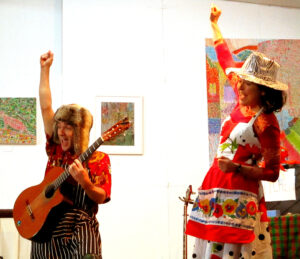 Mambo Jambo have performed this show at The Big Malarkey Festival, Ilkley Playhouse, Llyn Arts Festival, Eden Festival, Birdhouse Family Festival and Hull Dance's Pop Up Venue. The show is self-contained from a technical point of view; set up is minimal and PA isn't necessary. It could be performed on stage, outside, in a library, festival space etc.