Halloween Concerteenies at The Greystones Sheffield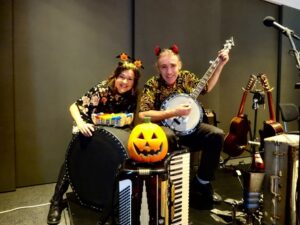 We'll be playing for a special Halloween Concerteenies show for 0-5s and their grown-ups, with props, music and dancing. (Check out the other Concerteenies shows here:)
Shows on at 10.30-11.15am, 11.45-12.15 and 1.15-2pm
NB> Tickets are now only available for the third show, the first two have sold out.
Tickets (from £9 for one adult and one child) here:
"Audience favourite Mambo Jambo brings a spook-tacular set to Greystones this year for our halloween specials for 0-5 year olds! Pieces include Zombie Jamboree, Witches Polka and Pumpkin Gumbo. Why not wear your spookiest clothing and get ready to sing, dance and play along with Pete and Frankie!
With songs, dancing, listening as well as bubbles, percussion, props and informal introductions, this is a fun and informal gig for adults and their young children".