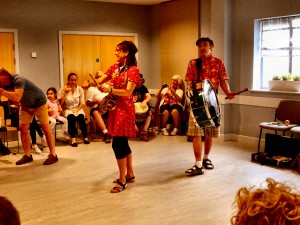 We're thrilled to have been booked for this Festival.
Family Carnival Drumming Workshop 1.30-2.30pm
This is a great workshop for families to do together! Ages 6 upwards.There will be range of drums and we'll work towards getting a groovy carnival tune, together with drums and some singing for those who like to sing!
Brazilian Dance moves 2.45-3.10pm
All ages and experience from beginners upwards.
Drop In workshop. Some brazilian dance moves from samba to samba reggae and other styles. With live drumming form Pete.
Flamenco Dance Workshop 3.10-3.30pm
No experience needed! Come along and try some flamenco hand claps and wrist curls then basic flamenco dance moves for a flamenco routine, with live flamenco guitar from Pete. All ages welcome!
Mambo Jambo In Concert 4-5pm

Mambo Jambo concert for all the family! Come and discover all their instruments, and enjoy styles from boogie to bluegrass to Eastern European and Cuban music, songs from the Roaring Twenties plus singing along with some of Mambo Jambo's own upbeat and engaging songs!
'Musical sunshine from this multi talented and multi instrumental duo." (Leeds Gig guide)
"Mambo Jambo – a total delight; perfect for all ages!" (Big Malarkey Festival Hull.)
Should put a smile on your face and get your feet tapping!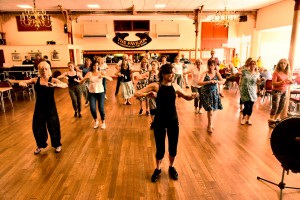 (Photo credit, Dylan Woolf)