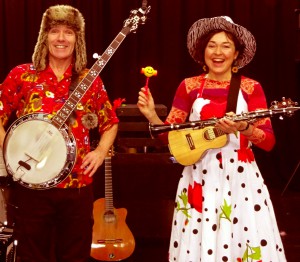 "Mambo Jambo's Nonsense Show' with Nonsense Songs and music and Nonsense In General!

Lots of fun for children aged 3-7 and their families!
Come and join Mambo Jambo, with their array of instruments and nonsense props for an afternoon of Nonsense songs and music and Nonsense in General!
Together we'll be singing along with choruses, rapping, and sharing in song and silliness, exploring the Octopus' Garden, and making a Nonsense Stew!
"Created a wonderful atmosphere!" Charlotte Bowen, Birdhouse Festival Director
"Mambo Jambo are a total delight!….An infectious sense of fun!" Ellen Bianchini, Director Big Malarkey Children's Literature Festival
"The sheer enthusiasm & joy of their music along with their wonderful musicianship & great stage presence combine to create an act that will undoubtedly go down a storm wherever they play."  Jim McLaughlin, Musicport Festival Director
Tickets £6 from https://ilkleyplayhouse.co.uk/IlkleyPlayhouse.dll/Booking?Booking=TSelectItems.waSelectItemsPrompt.TcsWebMenuItem_0.TcsWebTab_0.TcsPerformance_455017.TcsSection_832